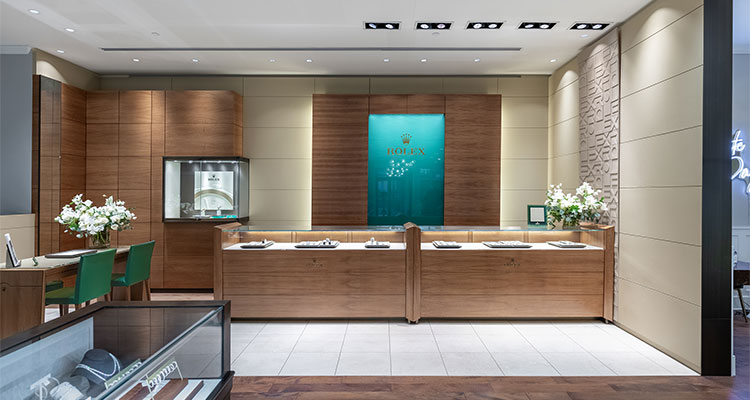 Austin's Jeweler Since 1973
Our Rolex History
Founded by Russell Korman in 1973, Korman has remained family and locally owned for 50 years. Choosing to "Celebrate Every Day" with the Austin community, Korman offers a hand-curated selection of the finest diamonds, fine jewelry and Swiss timepieces, and a luxury experience like no other.
FROM BEADS TO BRILLIANCE
Founder Russell 'Rusty' Korman's journey began as a hobby during his time at The University of Texas, where he began selling African beads on the Drag in 1973. After realizing the potential of his venture, Rusty opened his first storefront in Dobie Mall. Over the years, Rusty would relocate several times before partnering with world-renowned designers and Rolex in 2011, evolving into Austin's premier jewelry store offering exceptional customer service and a selection of fine jewelry and Swiss timepieces.
AUSTIN'S JEWELRY DESTINATION
In 2018, Rusty and his partners sold the business to Kat and Larry Stokes, who brought a wealth of jewelry expertise, shared values and a passion for community. Today, Korman stands as Austin's premier jewelry destination, offering a hand-curated selection of diamonds, timepieces and fine jewelry through their global network of diamond partners, sightholders and partnerships with renowned designers. With master watchmakers, skilled jewelers, and knowledgeable staff with a passion for celebrating every day, Korman continues to sparkle year after year.
EMBRACING THE NEXT 50 YEARS
We are thrilled to continue to celebrate with our valued clients in the Austin community. The growth we have experienced over the years has been a testament to the trust and support we have received from our clients. With each passing year, our excitement to expand our reach and serve the community only intensifies. We eagerly anticipate the countless milestones, successes, and partnerships that lie ahead as we continue to grow together. Here's to the next 50!
Keep exploring