Throughout history, bracelets have always been an essential part of a woman's wardrobe. In many cultures, accessories have been known as symbols of beauty, fertility, and commitment. Others placed profound aesthetic value on pieces worn around wrists and arms, especially when they displayed distinctive and refined craftsmanship. While these first bracelets tended to be bulkier than what we see today, with raw or uncut gemstones stringed around the wrist, they still occupy positions in many collections and even museums.
Modern bracelets tend to be more conservative, focusing on delicately cut gems and finely smithed alloys that provide a lightweight but durable foundation to the most beautiful stones.
Today, fine jewelry bracelets can be divided into four main categories:

Charm Bracelets
Dating back to ancient times, many place their popularization thousands of years in the past on the coasts of Africa. Charm bracelets were said to have intricate and symbolic engravings to ward the wearer from misfortune or to bring luck in various aspects of life. Some cultures believed specific stones or beads granted the wearer a form of magical protection, even stringing them together to combine their special powers or inherent beauty. Christianity adopted charm bracelets while under Roman rule, using them as a visible but surreptitious way to identify themselves to their brethren. Its use continued throughout the middle ages, especially among soldiers and knights who sought divine protection in battle.
Queen Victoria was said to have an immense charm bracelet collection and is often credited with popularizing charm jewelry. She would distribute charm bracelets as New Year's Eve gifts every year, a trend that still stands today.
Check out Roberto Coin's stunning 18KT Obelisco Diamond Bracelet.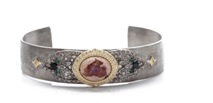 Cuff Bracelets
A distinguishing feature of cuff bracelets is their rigidity compared to other bracelets. They offer jewelers ample space to play with shapes and materials in incredible ways contributing to the many elaborate carvings and inlays that make them distinctive.
Cuff bracelets were used in many American pre-hispanic cultures and parts of North Africa as symbols of wealth or social status. They saw a revival during the first half of the 20th century with personalities like Gabrielle "Coco" Chanel donning wide ornate cuffs. The 70s also saw an increase in cuff sightings in fashion shows. With the influence of social movements in favor of women's liberation, cuff bracelets represented a unique sense of empowerment characteristic of the times.
New models like Armenta's Old World Mexican Fire Opal Cuff continue to empower women today, combining the refined qualities of yellow gold and sterling silver, studded with the fascinating scintillation of perfectly cut stones.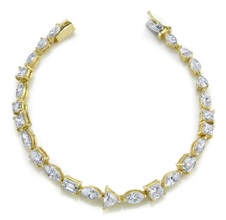 Tennis Bracelets
Diamond line or eternity bracelets appeared during the roaring twenties, a time that marked a definite change in the social definition of femininity. Young women wearing short skirts and bobbed hair populated billboards and magazines. They also took a more active role as breadwinners, forever changing fashion  to adapt to the frantic pace of American transformation.
Eternity diamond bracelets were used to symbolize long-lasting love and commitment. They were slim jewelry pieces with refined details and a row of tiny diamonds that provided a distinctive focal point. If one browses through pictures of women during the 20s and 30s, we can notice how their arms would reveal a lot more skin with singlets or sleeveless dresses. They would favor bead collars and hats while leaving arms bare or using slim bracelets and wristbands.
As women began occupying more positions of prominence in various industries, new fashion trends emerged. In this regard, Coco Chanel played an essential role in setting new standards for modern women. Fashion experts followed European royalty, first ladies and sports stars closely as the masses hurried to emulate their wardrobes.
In the late 70s, rising tennis star Chris Evert was on her way to becoming a hall of famer and a symbol of feminine self-determination. Her picture was a common sight in magazines and billboards, and in 1976 she was the recipient of the Sportswoman of the Year award given by Sports Illustrated.
Until then, tennis players would go into the court with little more than their sanctioned outfits and rackets. Then, however, Evert started showing up with a discrete yet eye-catching diamond bracelet. The bracelet was loose enough to allow Evert to deliver flawless services, yet light enough to prevent it from becoming distracting. It soon became all the rage, being popularized among young ladies worldwide. It was then that the term "tennis bracelet" was coined.
According to sports chroniclers, Chris Evert was in the middle of a match when the bracelet fell off her wrist. She asked for the game to be paused while she tried to find it. This incident drew even more attention to the bracelet that would go down in history.
Designers soon started offering their own version of this delicate piece, and tennis bracelets have maintained popularity ever since.
Check out Shay's 18KT Mixed Diamond Shape Tennis Bracelet.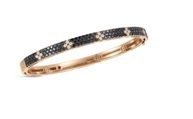 Bangle Bracelets
These round and often chunky pieces are said to have originated in India. Hanging graciously from arms and wrists, they add a kinetic appeal to  any look. Modern bangle bracelets embrace a "more-is-more" approach as their structure makes them so easy to stack,  each bangle providing a unique and whimsical elegance.
Take Roberto Coin's 18KT Love in Verona Bangle as an example. It is a slim rose gold piece with a delicate pattern made with black and white diamonds. The disposition of the gemstones adds a flirtatious interaction with environmental lighting, and the warm tones allow for infinite combinations with other pieces and most outfits.
As you can see, diamond bracelets have played a critical role in most of our modern history and they continue to illuminate our writs with their unique and playful glimmer.
If you want to learn more about our unique fine jewelry pieces, our experienced master jewelers will help you find the perfect diamond bracelet for you. Take a journey through jewelry history at Korman Fine Jewelry.